Weather
July climate report details record heat across Alaska
Alaska's warmest month on record is now officially in the record books.
July 2019 was warmer than any month — of any year — since 1925. The National Oceanic Atmospheric Administration's latest climate report shows the state averaged 58.1 degrees Fahrenheit through the entire month.
That's more than 5 degrees above normal and almost a full degree higher than the old record of 57.3 degrees Fahrenheit set back in July of 2004.

It was the warmest month on record for a number of cities across the state, including Anchorage, Yakutat, Kodiak, Kotzebue, McGrath, King Salmon, and Utqiagvik. Anchorage even made headlines when it set an all-time record high temperature of 90 degrees Fahrenheit on the Fourth of July.
July's warmth continues the year-to-date trend of abnormally warm temperatures, with January through July averaging 33.3 degrees Fahrenheit. That's 7.5 degrees above normal statewide, making it the second warmest first seven months on record for the state.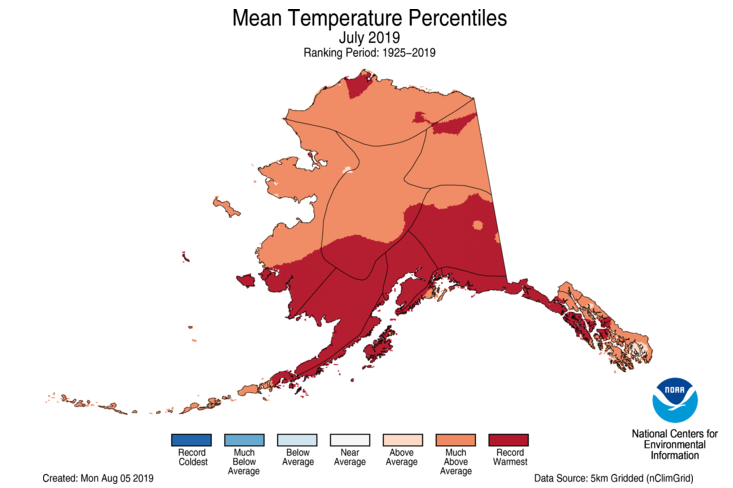 It wasn't just warm, it was also dry.
The lack of moisture and above-normal temperatures contributed to the growing drought across Alaska. By the end of the month, more than half of the state faced abnormally dry conditions. Parts of Southeast remained under extreme drought — the most intense drought the state has seen.
The warm, dry conditions contributed to wildfires across the state, with 70% of all wildfires in the U.S. from January through July in Alaska.
Fires encroached on communities, prompting evacuations for some as the landscape burned. Thick smoke triggered dangerous air quality in many cities including Anchorage and Fairbanks.
Warm temperatures also melted ice in and around Alaska at unprecedented rates. In fact, sea ice near the the state reached its lowest mid-summer extent in history.
The stretch of above-freezing temperatures from June 28 to July 7 is the longest on record. Not once during the month of July did a weather station in the state report a sub-freezing temperature. 
Copyright 2019 KTVA. All rights reserved.