Weather
Winter ends with record warmth across Alaska
March 19 marks the last full day of the 2018-2019 winter season. As the season of extremes comes to a close, it is only fitting that it ends with a round of record-setting high temperatures. Parts of Southeast Alaska will soar to mid-summer levels of warmth with enough sunshine to warrant sunglasses and a thick layer of sunscreen.
Starting back in late December, weather took a turn for the abnormal. The roller-coaster ride of temperatures was met with a myriad of different precipitation. From spring-like warmth to sub-zero cold, we saw it all. 
In Anchorage, we rang in the new year with temperatures soaring into the 40s! Then temperatures quickly turned, dropping to subzero lows overnight less then a week later. The ups and downs continued. Below normal and back up to near-record highs as quickly as the mercury dropped. Despite the swings in temperatures, we remained pretty close to normal in terms of precipitation. However, all of that warmth means we are still about 10 inches behind in terms of snowfall. 
Juneau was relatively similar. Near record warmth started the year, before temperatures dropped to below-normal less than a week later. The temperature swings continued. Ups and downs dominated the forecast through January. February trended a bit below normal through the first half of the month before warmth took over. For the past few weeks, temperatures in Southeast have been above normal, but also exceptionally dry. The warmth and lack of moisture puts our capital at an almost 30-inch deficit in snowfall. Thankfully, we are still about on track in terms of overall moisture. 
A blast of warmth had a good portion of the state above normal during the last days of the season. From western portions of the state to the Interior and down into Southcentral and Southeast, temperatures trended above normal for this time of year. Persistent southerly flow allowed the warm air advection to compound on itself. Because of this, high temperature records fell across parts of the 49th state. Many places that didn't set new records were very close to their previous records. Fairbanks hit 49 degrees, just barely missing the 38-year-old record of 50 degrees!
The persistent ridge of high pressure over Southeast will likely cause record-setting high temperatures both the last day of winter and the first day of spring as well. A few locations will even approach 70 degrees! That is warmer than the average high temperature during the month of July. 
Looking at long-range weather patterns is always a bit tricky. You have to look at the overall pattern in order to get an idea of a general trend. That's just about it, a general trend. Just because the overall pattern looks to be a certain way does not mean it will be that way on a day to day basis. That being said, the Climate Prediction Center is forecasting spring to be another warmer-than-normal season.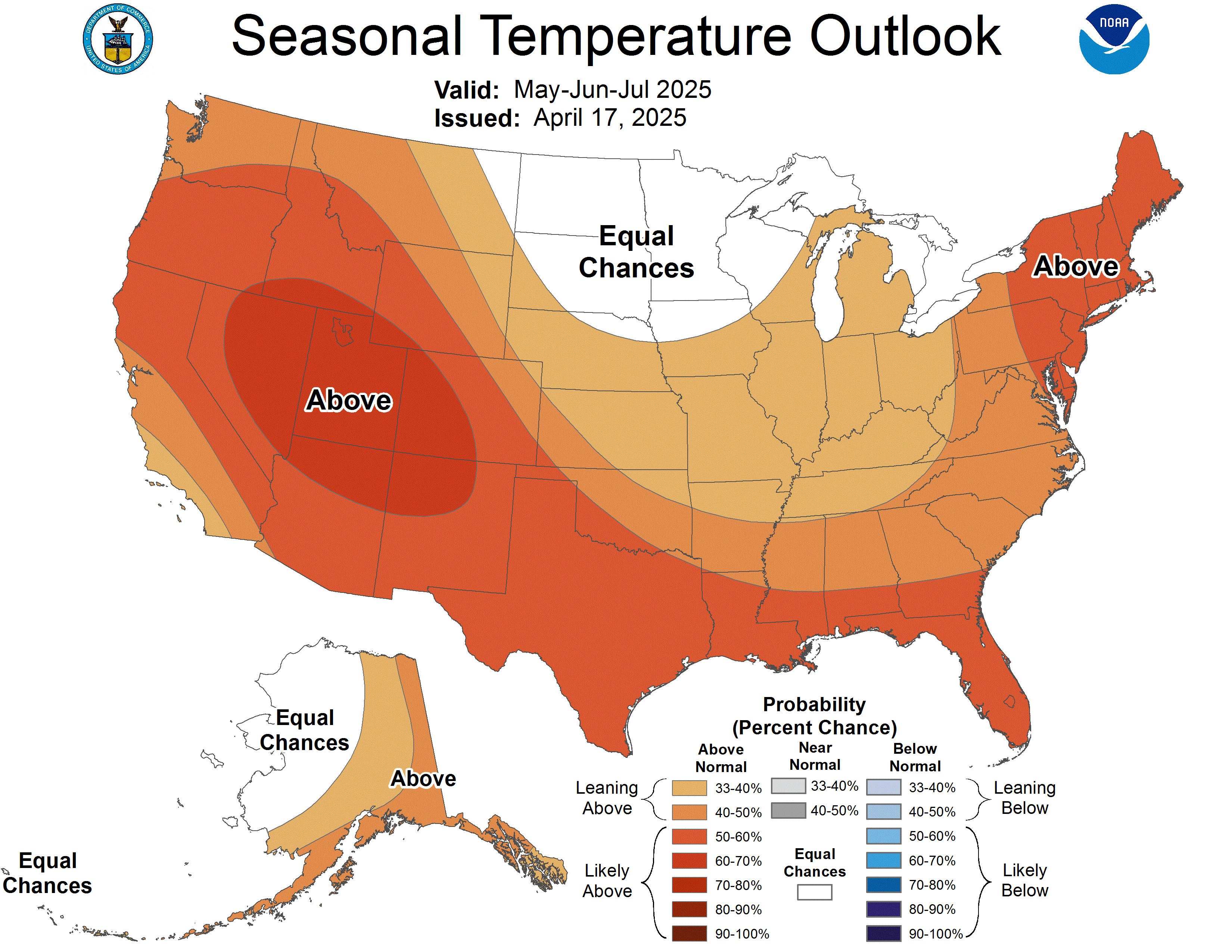 Our normal high temperature this time of year is typically in the mid-30s. That means that if we are supposed to be warmer than normal, it is safe to assume our melting trend will continue. But before you go and swap out the tires on your car and put away the ice cleats, keep in mind we could easily see another cold snap and another round of snow.
Copyright 2019 KTVA. All rights reserved.